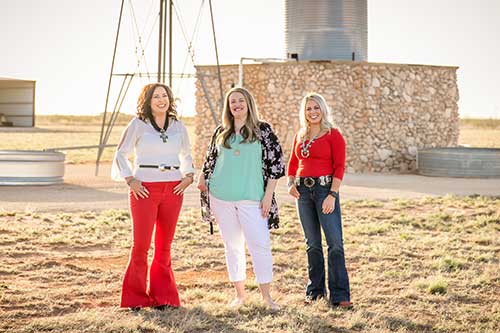 Real Estate the West Texan Way! Remember growing up when a firm handshake, head nod and smile was how you sealed the deals…that's the West Texan philosophy I believe in and strive daily to offer to every client I meet. Integrity, honesty, hard work, respect and follow thru are daily principles I live by, not just in my commitment to you in real estate but in everything I do.

A native to West Texas, I grew up in Coleman, Texas. In 1998, I graduated from Texas Tech University with a BS in Agricultural Communications and continued to achieve my Masters in Ag Education with a lifetime teaching certificate. Prior to finding my passion for real estate, I worked as a Marketing Representative for John Deere, the Director of Sales & Marketing for Midland Convention & Visitors Bureau, and had an award-winning career as a Pharmaceutical Sales Representative for Forest Pharmaceuticals. I returned to Midland, Texas in 2012 and soon joined The Victoria Printz Team Realtors in July 2013. My real estate career began as a Licensed Contract to Closing Specialist under broker Victoria Printz, Midland's Career Leader in Home Sales since 1998. I was also allowed to work as an agent on her team as well during that time. After two years and hundreds of transactions under Victoria's tenure, I moved into a full-time Agent role working with buyers and sellers. Since getting my license in Oct. 2013, I have closed over 310 transactions and sold $20,854,387.00 in real estate thru August 2021. July 2019 I obtained my broker's license and beginning of September I fulfilled my dream of owning my own brokerage: SuJo McKee Real Estate! I love to work in various areas: Farm and Ranch, Commercial, and Residential properties all over West and Central Texas. The markets I actively work in are Midland, Odessa (the Permian Basin), Coleman, Brownwood, Abilene and the surrounding counties. In my spare time, I serve as Tournament Director for golf tournaments in the spring and summer and enjoy time in the country with my family.
Toward the end of the year in 2020, I had the pleasure of adding two new Licensed Agents to my team: Braun Burkholder and Emily Merritt! Both ladies bring many wonderful talents and a wealth of knowledge to our team. Their excitement and passion is inspired by helping others achieve their dream of owning a home. You can read more about them on our Team Members page.
Whether you are in the market to buy or sell property, I'm your gal! I invite you to use this site to search for your next Single Family Home, Condominium, Townhome, Farm and Ranch land, or Commercial real estate purchases.

To locate the property of your dreams, click the Property Search button. Also I invite you to create your own FREE account, so that you may save listings that you might be interested in viewing.

Thank you for visiting! I look forward to hearing from you soon and offering you that well-deserved West Texan Real Estate experience!

Texas Real Estate Commission Consumer Protection Notice
Texas Real Estate Commission Information About Brokerage Services